Welcome to my Star Trek page!&nbsp I am a huge fan of Star Trek, and so I have created this page as a tribute, persay, to Star Trek. On it, you will find mostly Star Trek funnies that I find on the internet, and anything else that is 'trekkish' enough to be put up here.

Note:&nbsp The music you should be hearing now is the theme to Star Trek:&nbsp The Next Generation, with the controls down at the bottom of the screen.



Humor
What if Dr. Seuss Wrote for Star Trek? - The name pretty much speaks for itself.
What if Data Were MS-Windows Compatible? - So true...
'The Enterprise Stops at Taco Bell' - Top 10 lines from the upcoming TNG episode
Reasons Why Janeway is Better than Picard - The list goes on and on...
Your Starship Captain May be a Redneck If... - Mmmm... Beans...




Star Trek Meets the Matrix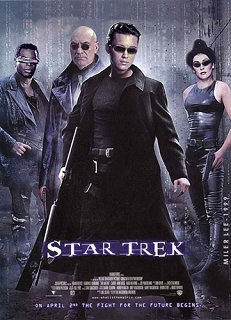 Miscellaneous